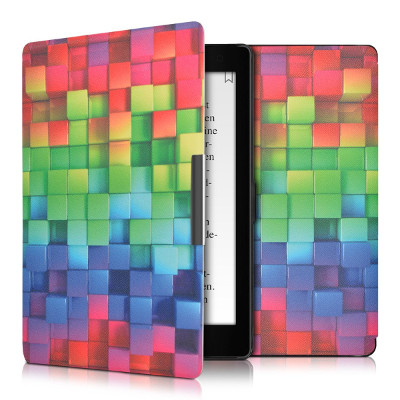 So far Kobo has kind of dropped the ball on the release of their 7.8-inch Kobo Aura One ebook reader.
It's been out of stock from Kobo's website for several months now, pretty much since it was released in September (yet it's been selling from Chapters.Indigo most of that time).
The official sleepcover for the Kobo Aura One has been out of stock most of the time since it was released as well.
Luckily a number of third-party cover makers have plenty of different cases available for the Aura One.
Several support the automatic sleep/wake feature like the official cover too.
If you have a favorite case for the Aura One give it a shout out in the comments!
Kobo Aura One Covers List
Ultra Compact MoKo Covers – These are a good choice if you like slim, tight-fitting covers. They have a magnetic flap and support the auto wake/sleep feature. They are available in six different colors/designs and only cost $11-$13 each. There's also this second listing for MoKu cases without the auto wake feature for a few bucks less. These cases mostly have positive reviews.
Kwmobile Case – Check out these if you like covers with some color and style, like the one pictured above. They also have plain black. These covers are compatible with the auto wake function and they are priced in the $10-$13 range.
Mama Mouth Covers and Viewing Stands – These covers fold out and double as a reading stand to prop the Aura One up. They come in a variety of colors and designs and cost under $15.
Avidet Slim-Book Style Case – Another low cost cover for the Kobo Aura One that comes in four different colors, but it doesn't support the auto wake feature and there are no reviews yet to go off of.
ACdream Cases – These are the type of covers that go over the front bezel of the reader. They also have the auto sleep/wakeup feature.
Xindayi Ultra Slim Cover – This is a very thin and lightweight cover with auto wake/sleep (apparently not). It's available in four different colors and it sells for less than $10.