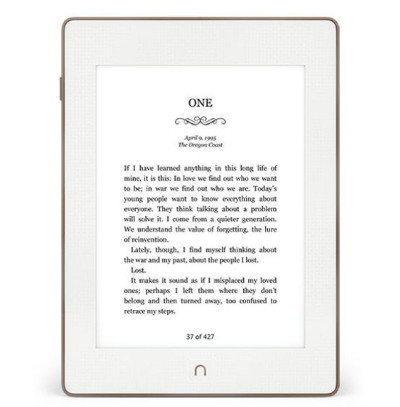 It's really quite bizarre when you can go to Amazon and buy a waterproof Nook GlowLight Plus ereader for considerably cheaper than it sells for from Barnes and Noble.
Third-party merchants sell all kinds of stuff on Amazon so this isn't the first time this kind of thing has happened, but it just goes to show how many different advantages Amazon has over their competition.
Could you imagine walking into a B&N retail store and buying a Kindle?
That would never happen in a million years.
Yet certified refurbished Nooks have been selling at Amazon for close to a year now, long enough to amass 61 user reviews.
That's a pretty high number considering the same Nook only has a total of 110 reviews at B&N (for what it's worth it has a half star higher average rating at Amazon with 3.6 out of 5 stars).
At $79, the refurbished Nook GlowLight Plus sells for $50 less than new ones go for at B&N. That's a large discount, nearly 40% off.
Even new Nooks sell for a bit less at Amazon. Currently they're going for $117 with free shipping, and they come with a USB card reader for some reason despite lacking a memory card slot.
That's like getting a 10% discount versus buying new from Barnes and Noble directly. It doesn't make much sense. And why doesn't B&N just sell their refurbished Nooks from their website? What's the point in having some third-party merchant sell them on Amazon?