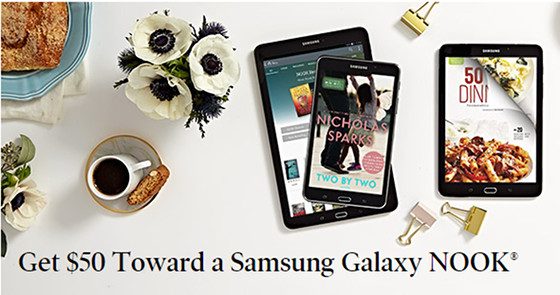 There are some deals to be had at Amazon and B&N so let's parlay them together into one post.
Amazon is having another sale on select Kindle ebooks today only as one of their main deals of the day.
This time around the deal centers around New York Times bestselling romances, which makes since considering it's Valentine's day.
There are 22 books on the list and most are priced at $0.99 to $1.99, with a few up to $2.99.
Select Kindles and Fire tablets are still on sale at Amazon as well. This is probably the last day for those sales.
In other deal news, Barnes and Noble is running a Nook upgrade offer where you can get $50 off the purchase of a new Galaxy Tab Nook.
In typical B&N fashion, the terms and conditions don't make much sense. They use the word trade-in but there seemingly is no trade-in involved with this deal.
You just have to enter code Upgrade50 at checkout to get $50 off. It applies to the Galaxy Tab Nooks only, and it takes the price of the Tab A 7 down to $89. Currently the Tab A sells for $125 or more at Amazon and other sites so that's a good price.
The Nook discount deal runs through March 18th.