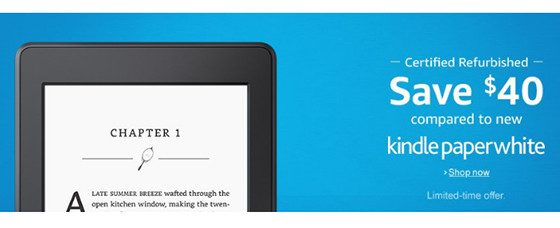 Amazon is having another sale on the Kindle Paperwhite 3, but this time around it's for certified refurbished ones.
Refurbished Kindles are often customer returns and open-box units that are lightly used so they are a good way to save some cash.
Refurbished Kindles also come with the same 1-year warranty as new Kindles.
The refurbished Kindle Paperwhite is marked down to $79, so that's $40 off the price of a new one.
It's kind of funny timing because I just posted about the refurbished Kindle Paperwhite being the best ereader for under $100 a couple days ago. It was priced at $92.99 then so now it's an even better bargain.
The $40 discount applies to the upgraded 3G Paperwhite as well, listed at $129. Both versions are available in black and white.
Amazon has some other refurbished devices too, like the previous basic Kindle Touch for $56 and the previous generation Fire HD 8 for $69, but the Paperwhite is the best deal of the lot.