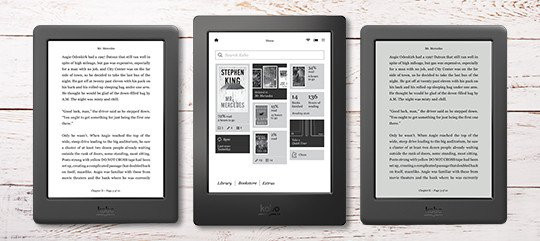 Kobo has released a new software update for current and past Kobo ereaders, all the way back to the original Kobo Touch.
The new firmware version is 4.3.8842. Automatic updates have already started rolling out, but that can take several weeks to get depending on where you live.
I haven't gotten the update yet but you can install it manually if you want it now.
The download links can be found on the 4.3.8842 update thread at MobileRead.
One of the major changes with this update is a new homescreen layout, but apparently it doesn't show up for everybody.
There are a couple of pictures of the new homescreen on the first page of the linked post above.
A couple of other noted changes with the new firmware include the ability to change frontlight brightness by increments of 1% with the light dial buttons, and they've added the option to sort by series from the library.
It seems there's also a new way to add the nightmode hack by putting some code in the config file (see here).
For those that have gotten the update, what do you think of the new homescreen? It's a pretty big change from the tile layout.