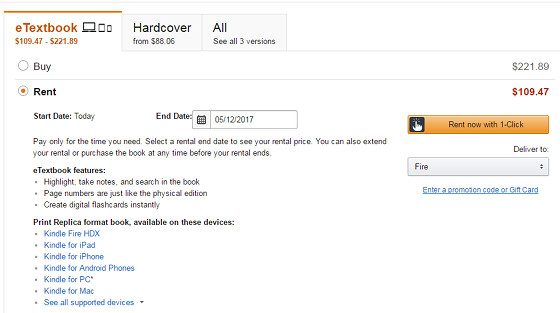 Why is it that ebooks get treated differently than other forms of digital media?
You can rent things like movies and e-textbooks online, and there are even services that offer audiobook rentals, so why isn't there any option to rent ebooks instead of buying them?
For ebooks that only cost a few bucks, renting doesn't make much sense, but NYT best sellers often sell for $9.99 – $14.99.
Similar-priced movies are typically available to rent in the $2.99 – $4.99 range.
So why not offer ebook rentals in the same price range that expire in 2-4 weeks?
Obviously publishers are the reason ebook rentals don't exist, but what's the big deal anyway?
If the model works for other forms of digital media then why not ebooks?
There's also the fact that ebooks cannot be resold after being purchased so that inherently makes them less valuable because you can't get rid of them after reading. You can't even sell ebooks that you hate and never want to read again.
In fact the majority of ebooks that I've acquired over the years I have no interest in ever reading more than once (in many cases less than once because I'm a really picky reader and don't like wasting time on boring, poorly-written books).
The option to rent ebooks would come with the benefit of being able to try new books and authors without committing to a $15 price tag. If you find out that you really like the book then you can buy it, if not you're only out a few bucks.
There are ebook subscription services like Kindle Unlimited that allow unlimited access to a library of books for a monthly fee, and that's kind of similar to renting because you don't actually own any of the books and only have access to them as long as you're a paying member, but the problem is most of the big name publishers don't allow their books to be offered in these programs.
Given the history of the publishing industry, things are unlikely to change anytime soon, so the option to rent expensive ebooks is probably never going to happen, but it would be a nice option to have sometimes. That or more reasonable prices…