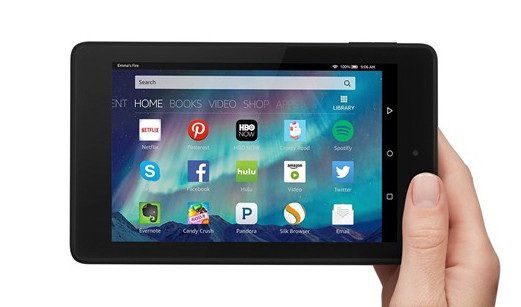 There are currently a couple of really good deals to be had on Fire tablets.
Over at Woot they've got the Fire HD 6 tablet on sale for $25 for the 8GB model. It's refurbished but that's a pretty big discount from what it sells for usually at $69 new.
They also had the 16GB model for $35 but it's already sold out.
It's a one-day only deal or until sold out. Considering the 16GB models are already gone they probably won't last the day at that price.
The Fire HD 6 is nice because it has a high resolution screen, but if you'd rather have the newer 7-inch model with a memory card slot it's also on sale as well.
Over at HSN they've got the current 7-inch Fire tablet available for $49.95 and it comes with a case and online service voucher.
On top of that you can use Visa checkout to take another $20 off the price, so being able to get a new Fire tablet with a cover for $30 is a pretty sweet deal.
They've also got the 16GB Fire tablet model for $10 more.
Additionally there are a few good Kindle books on sale among the Kindle Daily Deals. Plus there are these monthly deals with up to 80% off Kindle books.