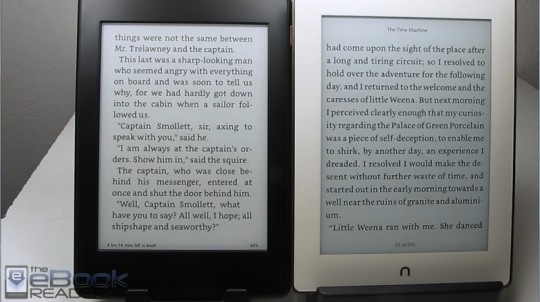 There are a few ebook readers on sale this week.
Barnes and Noble has the Nook GlowLight Plus marked down to $99, a $30 savings. That's a good price for a waterproof ereader with a 300 ppi E Ink screen and a frontlight.
But you can save even more by getting a refurbished Nook GlowLight Plus for $79 at Amazon.
The main difference is refurbished ones only come with a 90 day warranty and new ones come with a full year warranty.
The same cannot be said for refurbished Kindles—they come with the same 1-year warranty as new ones.
And Amazon has refurbished Kindle Paperwhites on sale again, this time for $84.99, and it's the latest version.
That's not quite as good as last month's sale when they had them going for $79, but it's still $35 off the price of a new one, and that's about as cheap as it gets for a 300 ppi frontlit ereader, along with the Nook.
It's kind of weird that Amazon has put refurbished Paperwhites on sale two months in a row now but the refurbished entry-level Kindle remains at $74, and that's only $5 off the price of new ones so that doesn't make much sense.