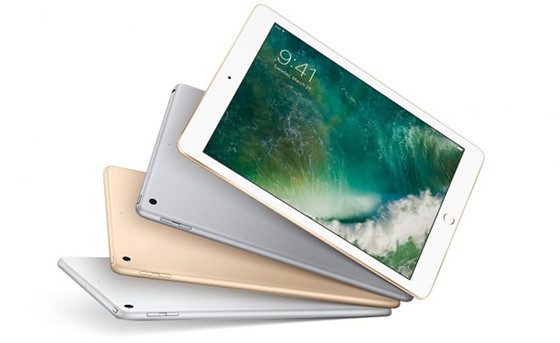 Earlier this week Apple unveiled a new 9.7-inch iPad that started going on sale today.
One of the most intriguing things about the new iPad is it comes at a much lower price than previous models, especially considering it has 32GB of storage space (or 128GB if you want more) instead of the usual 16GB.
So they got rid of the 16GB model and still lowered the price?
It seems so un-Apple-like.
But iPads aren't selling as well as they used to so Apple is trying a new lower-price strategy to attract more buyers and it's probably a really good idea.
The hardware isn't as cutting-edge as other iPad models, but the nice thing about the new iPad is it still has the same high-resolution 2048 x 1536 screen that's great for reading.
Conversely Android tablets with high-res screens have really tapered off in recent years.
At $329, the new iPad might just attract a lot more ereading fans with its large 9.7-inch screen that excels with stuff like comics, magazines, PDFs, textbooks, and for using larger font sizes with ebooks.
Moving forward the new iPad could very well become the top tablet for reading, especially with the lack of larger-screen dedicated ereaders and the lack of comparable tablets in the same price range.
Of course there will always be some people that prefer E Ink devices for reading, but with iPads getting cheaper and E Ink ereaders getting more expensive more people will probably just start choosing iPads instead for the added functionality.
Instead of posting the usual list of regurgitated specs, check Apple's website for more details about the new iPad 9.7.