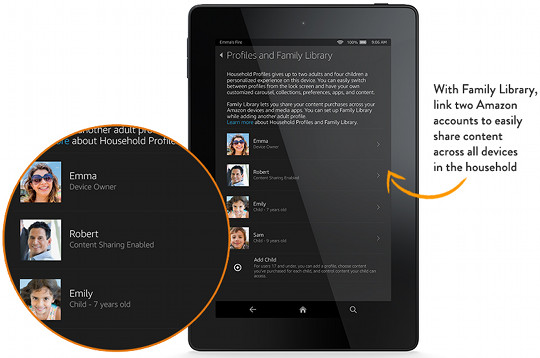 Amazon added a feature called Family Library a couple years back that lets users share Kindle ebooks and other digital content between two linked Amazon accounts.
Family Library is another one of those features that is easy to overlook if you haven't used it before or don't use it very often.
The way it works is you can link two separate Amazon accounts together to share content between them, and you can add up to four child profiles as well.
You can share Kindle books, audiobooks, apps, games, Prime Video, and Kindle Owners' Lending Library books.
Each account holder can choose what to share and what not to share, including individual titles.
Once setup, shared content appears in the cloud on supported devices.
The current lineup of Kindles and Fire tablets all support Family Library, so do Kindle apps, and most of the older devices too.
Here's the link to the list of devices and apps that support Family Library.
On Kindles you can filter by Shared Books to easily find shared titles. Each account maintains separate annotations, bookmarks, etc.
Here's an earlier article that outlines how to setup profiles and Family Library sharing.