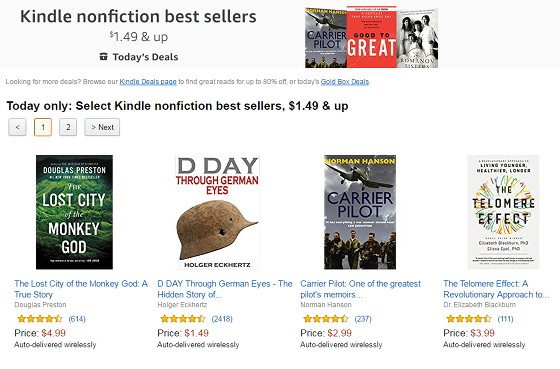 Amazon is having another 1-day only sale on a list of Kindle ebooks for one of their main Deals of the Day.
This time around the deal includes three dozen best-selling nonfiction ebooks. Nonfiction titles aren't offered with these deals very often so it's a nice change of pace.
The Kindle ebooks on sale are priced at $1.49 to $5.99.
There are lots of highly-rated books on the list so the sale is worth checking out.
Amazon also continues to have refurbished Kindles marked down.
It looks like $84.99 is the new permanent price for the refurbished Kindle Paperwhite, as it's been at that price for the past couple months now. That remains the best deal around for a frontlit ereader with a 300 ppi screen.
Perhaps that means they're trying to clear out old stock before the new waterproof Kindle Paperwhite gets released.
The refurbished Kindle Voyage starts at $152, but that's the price it always goes for.
They also have the previous generation refurbished Kindle marked down to $56, a bit less than usual. But you might as well wait for the current model to go on sale again for $59, which will probably happen soon with Mother's Day coming up in two weeks.