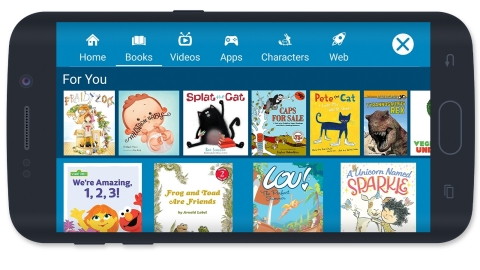 Amazon has been busy with their apps lately. They just announced the addition of the FreeTime app in the Google Play appstore, making it compatible with most Android tablets and phones, ending its exclusivity to Amazon's devices.
They also just updated their Android and iOS Kindle reading apps to add some new features.
The Android app now features Comixology's Guided View, and searches now extend to notes and highlights that you've added.
With the Kindle iOS app they added the Amazon Ember Bold font choice for those that prefer a bolder font option (I still wish they'd add a bold version of Bookerly too, but one's better than none).
The new Amazon FreeTime Android app opens Amazon's kid-oriented subscription service to Android devices.
The FreeTime service starts at $2.99 per month and features content designed for kids ages 3 to 12, including books, movies, TV shows, educational apps, and games. There's also a kid-friendly web browser.
Parents can setup daily limits and content restrictions with FreeTime, and they can monitor how their kids are using the app and set educational goals and use discussion cards.
Amazon first launched their FreeTime service back in 2012. Until now it has been limited strictly to Amazon's Kindles and Fire devices. Opening it up to Android devices is sure to make it more popular, but it's kind of surprising that they brought it to Android before iOS.