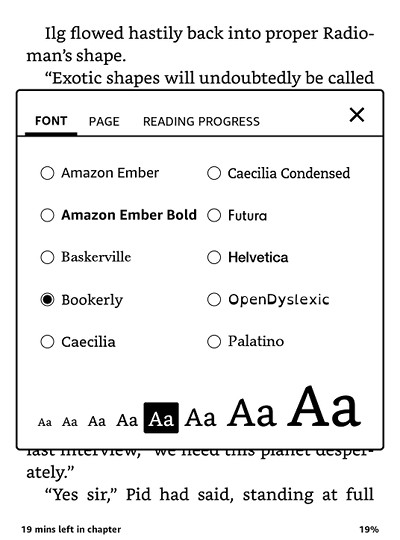 Some people have left comments recently about how they wished Kindles had more font choices to choose from.
So what do you think about the Kindle's current selection of font sizes? What size do you like the best?
I usually use the forth or fifth size from the left, depending on the book, but it would be nice to have a size in between the two.
The Kindle software currently offers eight font size choices.
That's pretty standard for a lot ereaders and apps, but it's a lot less than what Kobo offers.
Kobo is known for having a more advanced font system on their ereaders. They have over 40 font sizes to choose from, along with a custom boldness dial.
You can change the font size to be whatever you want with Kindle ebooks using Calibre, but that requires sideloading and some extra steps, so that's less than ideal.
Fine-tuning the font size to be whatever size you like is one of the main advantages with ebooks and ereaders. Having the perfect font size is important, so I can see why people would want more choices.