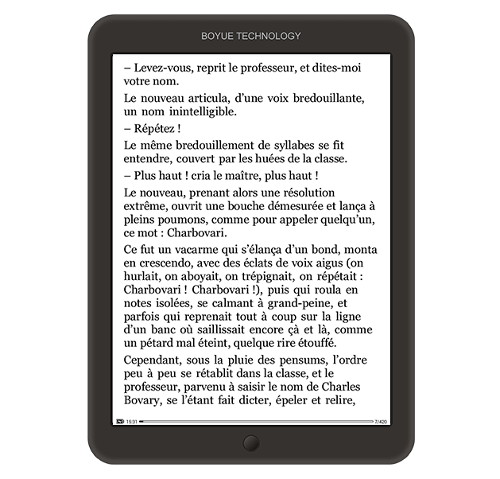 A couple days ago I posted about the Boyue T62 Mega that recently turned up for pre-order on Banggood for $120.
They also have another new listing for a second Boyue ereader that's available to pre-order for $196, the Boyue T80.
It's not exactly new, however. Last year at this time it was selling under different brand names with the InkBook 8 and Icarus Illumina XL.
However, those two devices are no longer being sold, at least not in the US (both Amazon listings show them as no longer available, and have for some time now).
The unique thing about the Boyue T80 is the fact that it has an 8-inch E Ink display.
The main negative with this ereader is the lower resolution 1024 x 758 screen. It only has 160 ppi, nearly half that of the T62 Mega and other 300 ppi ereaders. But at least there's a frontlight.
It has a dual-core 1GHz processor with 512MB of RAM and 8GB of internal storage space, plus there's a microSD card slot. It also supports audio and has a 3.5mm headphone jack.
It runs Android 4.2.2 and can install Android apps. Supported formats include ePub, PDF, FB2, HTML, and others.
I really like 8-inch E Ink ereaders and wish there were more options but the price of this one makes it a tough sell up against the Kobo Aura One with it's 300 ppi 7.8-inch screen for only $30 more. Plus the Kobo is waterproof and has an adjustable frontlight color, not to mention a better design.
But the T80 has a couple of advantages with the memory card slot, audio support, and Android software.