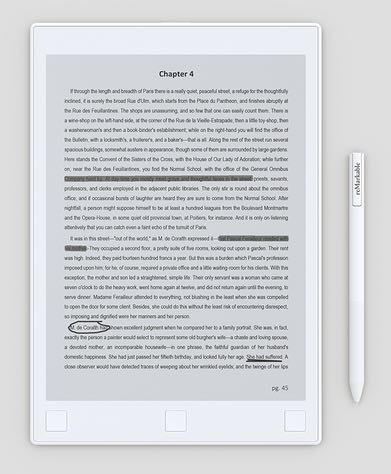 The 10.3-inch E Ink reMarkable paper tablet was unveiled last November when they first started accepting pre-orders for it.
This week the reMarkable has been making some PR rounds on different tech websites as we get closer to its expected release date in a couple of months around August.
CNET and BBC both uploaded new videos today showing the reMarkable paper tablet in action.
The device supports PDF and ePub formats, but it seems to be geared toward writing and drawing as much as reading.
It has a 10.3-inch E Ink screen with a resolution of 1872 x 1404 (226 ppi).
It features a capacitive touchscreen and a Wacom-based touchscreen to use a stylus pen that supports 2048 levels of pressure sensitivity.
Pre-orders are currently available from the reMarkable website for $479, up $100 from when they first started taking them last November. Current orders are expected to ship in October 2017.
It's going to have some strong competition with the new Sony DPT-RP1 that gets released in June for $699. It has a larger 13.3-inch E Ink screen, double the storage space, an upgraded quad-core processor, and it weighs the same despite the larger size, but the Sony only supports PDF format, not ePub, and the reMarkable appears to have the edge in the drawing department, but Sony claims to have improved their touchscreen sensitivity as well so that remains to be seen.
ReMarkable Drawing Demo
ReMarkable Writing and Drawing