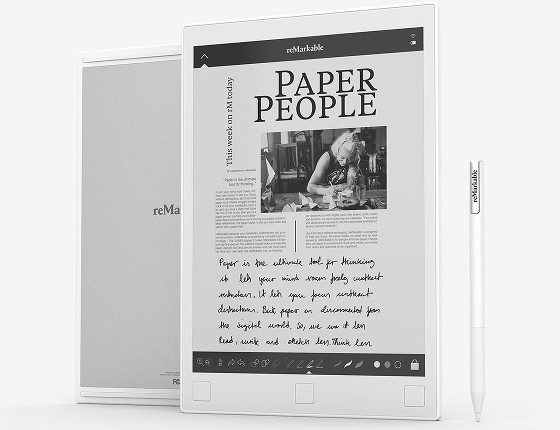 A Norwegian hardware start-up company has unveiled plans to launch a new digital paper tablet called reMarkable that attempts to bring the look and feel of paper to a tablet-like device.
The reMarkable tablet combines a 10.3-inch E Ink Carta screen with a new type of screen technology called Canvas that claims to be the most paper-like and fastest digital paper around.
After watching the video it does indeed look like a very promising product.
But it's not the first device of its kind. Others have failed with similar concepts. In some ways it's a lot like the Sony DPT-S1, which was recently discontinued.
The success of the reMarkable tablet is all going to come down to the execution of the software and hardware.
The biggest advantage it has over similar products is how easy and natural writing appears to be in the video. It can be used for handwritten notes and accurate sketches.
The device also doubles as a giant ereader and can load PDFs and ePub ebooks wirelessly.
As far as specs, it has a 10.3-inch 1872 x 1404 resolution screen, which equates to 226 dpi. The screen is partially powered by E Ink Carta technology and it is "virtually unbreakable".
It has a capacitive touchscreen and the stylus pen supports 2048 levels of pressure sensitivity.
The device has 8GB of internal storage space, with no mention of expandable storage. It has WiFi and the usual 1GHz CPU with 512MB of RAM.
The dimensions are 177 x 256 x 6.7mm ( 6.9 x 10.1 x .26 inches) and it weighs only 350 grams.
It has a custom Linux-based OS optimized for low-latency epaper.
Pre-orders are currently available for $379, but the product isn't expected to start shipping until August 2017, and when's the last time you heard of a brand new product actually launching on time…
The regular price of the reMarkable tablet is listed at $529; the pre-order price includes a bundle package with a pen and folio cover, which cost $79 each.
reMarkable – The paper tablet