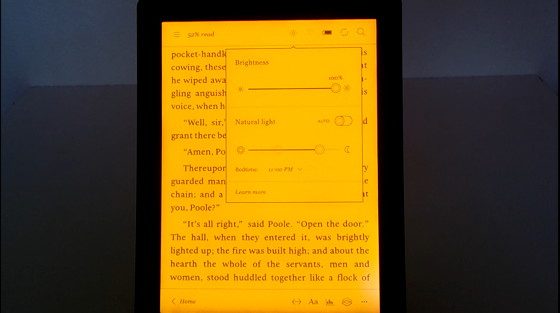 Last September when Kobo released the Kobo Aura One it was the first ebook reader to come with a 7.8-inch 300 ppi E Ink screen, and it was also the first ereader to offer a frontlight with adjustable light temperature.
Kobo calls it a Comfortlight Pro, and it's also available on the new 2nd gen Kobo Aura H2O that was released last month.
The frontlight can be set to automatically adjust the color of the light based on the time of day, from a cool blue tone during daylight hours to a warm orange hue at night.
Or you can turn off the auto setting and manually adjust the color temperature yourself.
Currently the two Kobos are the only E Ink ereaders to offer frontlights with an adjustable color tone.
Other companies will likely follow suit in time—Onyx already had a new device on display at a trade show recently that had the same kind of frontlight.
With all other frontlit ereaders you're stuck with whatever color they give you, which can vary from cool blue in tone to a warmish yellow (sometimes on the same screen, unfortunately).
It's pretty cool to be able to adjust the color to suit your personal preference with the Comfortlight Pro. Some people prefer to read with a warmer background color and others like a lighter background.
At the far end of the Comfortlight Pro's spectrum the light color takes on an orangish hue, as blue light is filtered out. At the middle settings the color is more subtle, and at the far left there's no orange color at all, only a cool blue.
The orange color is a lot different on the two Kobo ereaders that I have, however. The orange tone is darker and redder on the Aura One, but frontlights differ so much it's hard to say if they're that way or not.
I got the Kobo Aura One when it first came out about 9 months ago; maybe they've refined the color temperature since releasing the 2nd gen H2O last month. Either way the orange color looks better on the H2O than the Aura One because it's not as drastic and the contrast of the text is better at the far right of the frontlight color dial. Here's a video for a closer look…
Kobo Comfortlight Pro Video Review