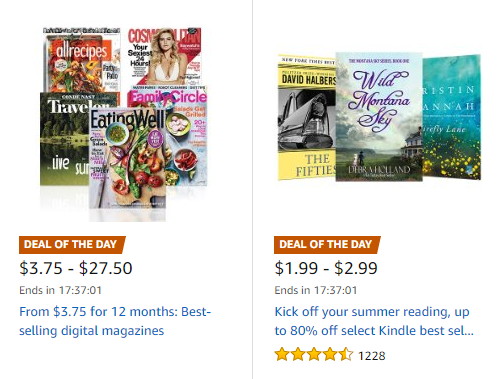 Amazon and Kobo both have some summer reading deals going on this weekend.
Amazon has two Kindle-related Deals of the Day ongoing through today, June 10th.
They have a list of Kindle best sellers marked down by up to 80% off, along with a list of digital magazine subscriptions starting at $3.75 for 12 months.
There are lots of highly-rated Kindle ebooks on sale to choose from, and most are only $1.99.
Amazon also has the previous generation Fire HD 8 on sale for $69 ($20 off), and since it's 95% the same as the new one you might want to get it instead to save some cash.
Kobo has a list of ebooks on sale as well where you can get 60% off with code 60JUN. The sale ends June 12th.
Kobo continues to offer a deal on the 1st gen Kobo Aura H2O where you can get a free sleepcover with the purchase. The price is $179, but lately the H2O has been available on Amazon for $146 without a cover. In some ways it's a better option than the new H2O unless you want the orange light.
Kobo also recently started advertising the Kobo Aura HD for $89. That's a good price for a 6.8-inch frontlit ereader but it's several years old now and it has older screen tech. The 1st gen H2O for $146 would probably be the better option unless you just wanted something cheap.