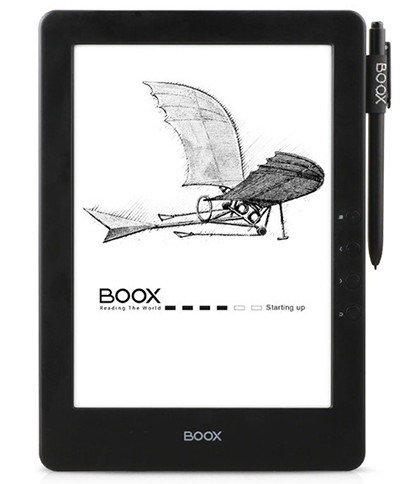 I noticed that Banggood is now selling a newer version of the 9.7-inch Onyx Boox N96 with an upgraded E Ink Carta display.
There are several different versions of the Boox N96. Some support dual touch and others only support stylus or finger input, and some have frontlights and others don't.
The new Onyx Boox N96 Carta supports both pen and finger touch but it doesn't have a frontlight.
E Ink first released Carta screens back in 2013 so it's about time they started using the technology with their 9.7-inch screens as well.
All previous N96 models used E Ink Pearl screens.
I haven't seen these specific ereaders in person to see how they compare, but Carta screens generally have better contrast, with a lighter background color and darker blacks.
Carta displays also have some speed benefits that reduce the need for full page refresh so page turns are smoother and there's less ghosting.
Other than the Carta screen, the new N96 appears to be exactly the same as the previous version with a Pearl display.
The screen resolution remains the same as well at 1200 x 825 (150 ppi), but the boost in contrast should help quite a bit.
They currently have the Onyx Boox N96 Carta listed for $369 at Banggood, which is only $20 more than the other Pearl variants, except the Boox N96C that sells for $285.