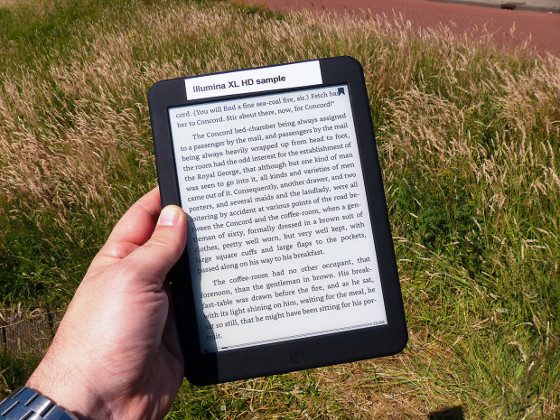 Last week a couple videos of a new 7.8-inch 300 ppi ereader called the Icarus Illumina XL HD started showing up on YouTube.
A few days later it turned up on Indiegogo for pre-order. The early bird packages are already sold out, but they're still taking pre-orders for $199 USD plus shipping.
Icarus is based in the Netherlands but they ship worldwide.
The Illumina XL HD is the first ereader besides the Kobo Aura One to feature a 7.8-inch 300 ppi E Ink screen.
They are priced about the same, with the Aura One being $229 with free shipping.
The Icarus ereader runs Android 4.2 so it's a lot different than the Kobo. Plus it supports audio and it has a faster 1.8GHz processor and double the RAM and storage space.
See the post from last week about the Icarus Illumina XL HD for a full list of specs.
It's good to see more medium-sized ereaders hitting the market. The 7.8-inch screen is my favorite size for reading. 6-inch ereaders are nice for portability, but I like 7.8-inch screens more for reading at home. Hopefully this is the start of a new trend; we've already got plenty of 6-inch ereaders to choose from.