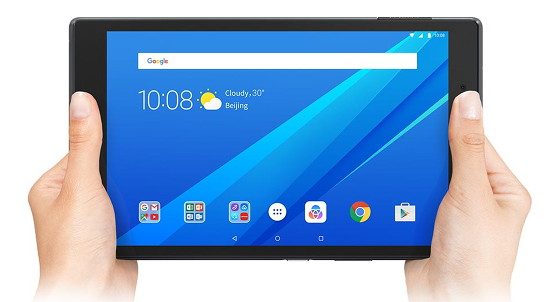 Lenovo has a couple of new budget tablets for 2017 that look promising. They are among the first tablets to come with the latest Android Nougat 7.1 operating system.
There's an 8-inch model and a 10.1-inch model, the Lenovo Tab 4 8 and Tab 4 10, and both are inexpensive enough to compete with Amazon's 8-inch and 10-inch tablets (although it looks like Amazon might be phasing out their Fire HD 10 since they didn't release a new one).
The 8-inch Lenovo Tab 4 was released a couple days ago, but the 10-inch version is still a few weeks away.
The Lenovo Tab 4 8 is kind of like a nicer version of the Fire HD 8.
With a retail price of $129, it's a bit more expensive than the $79 HD 8, but once it starts going on sale for like $109, and with the comparable Fire being $95 without ads, the price difference isn't as much as it would seem.
The Lenovo Tab 4 8 is thinner and lighter than the Fire HD 8, and it has more RAM, better cameras, front-facing speakers, and Android Nougat 7.1 instead of Fire OS 5. But the Fire HD 8 boasts longer battery life and it supports higher capacity memory cards.
The Tab 4 8 and Tab 4 10 both have 1280 x 800 IPS HD screens, which is pretty standard these days. Lenovo is also expected to release Plus models later this year with higher resolution full HD screens.
The Tab 4 tablets have quad-core 1.4GHz Qualcomm Snapdragon processors, with 2GB of RAM and 16GB of storage space. MicroSD cards are supported up to 128GB. They also feature Bluetooth, a 5MP rear camera, and a 2MP front camera. Battery life is rate at 10+ hours for the 8-inch model and 13+ hours for the 10-inch model.
Lenovo is marketing these tablets toward kids as well. There's a kids mode designed for children and they sell a Kids' Package add-on pack that includes a bumper case, a blue light filter, and stickers for the back.
The Lenovo Tab 4 8 is currently available from the Lenovo website for $129. The 10-inch model is $179 but it looks like it won't be available until next month. Both are also listed on Amazon but shipping is still a few weeks away.