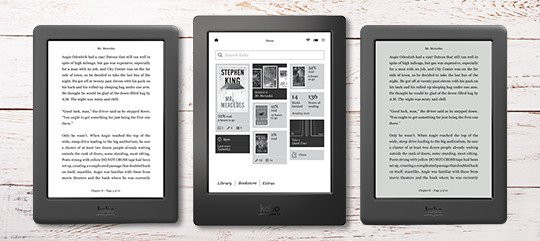 Last week Kobo started rolling out a new firmware update for their line of ebook readers.
The new software version is 4.5.9587. The update applies to older models too, not just newer ones.
You can find a list of changes and download links at MobileRead.
The Kobo Firmware Downloader is another place to find downloads for each model.
Or you can just wait for the update to download and install automatically when syncing.
Kobo rolls out updates slowly, however, so it might take a few weeks to get it. But if your Kobo ereader is suffering from some problem you might want it now.
This update doesn't add any new cool features; it's more of a bug fix update that hopefully cures some common issues.
They claim to have fixed the problem with the frontlight staying on in sleep mode (my Aura One experienced that problem for awhile but then it just went away on its own).
Here's a list of some of the changes:
Fixed:
If a software update was found during automatic sync, user was not being asked whether to apply update now or later (update was applied immediately)
Light could remain on when device should be sleeping, causing battery to drain
On some devices, swiping to adjust brightness could only go down to 1%, instead of 0%
Repair wasn't always prompting you to connect to Wi Fi
Repair could cause Known networks to be removed
In purchase path, Keyboard might have appeared when it shouldn't
Authors view: 'Recent' sort was not always working
Authors view: Number of books sort was ordering lowest-to-highest
via: MobileRead