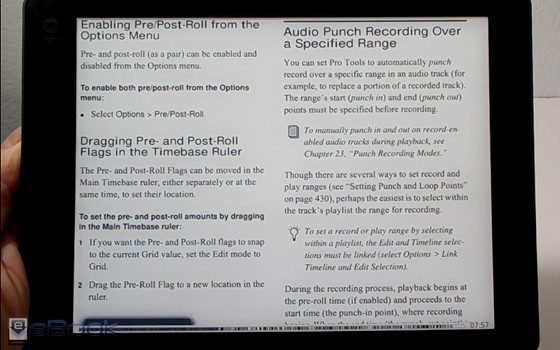 I finally got around to installing KOReader on the Kobo Aura One over the weekend, and it didn't take long to realize that it's a major improvement over the stock software when it comes to reading PDFs.
Kobo's PDF software is so slow and lackluster that I honestly can't think of an ereader that is worse for PDFs than a Kobo ereader.
But with KOReader installed it's a different story.
PDFs are quick to load, respond and turn pages; it's like using a completely different device.
And unlike the stock software that has a bare minimum of features, KOReader has a full complement of tools to properly accommodate reading various types of PDF files.
There's a nested table of contents and go to page function for navigating, and you can follow hyperlinks and easily go back. You can add bookmarks and highlights, run searches, lookup words in the dictionary, reference Wikipedia, and switch to night mode for white text on a black background.
KOReader has an auto-crop feature that works well to get rid of margins, and you can also set custom crop zones and choose different zoom modes.
Landscape mode works well, and it has a nice contrast darken feature to make the text darker. The app also supports PDF reflow to resize the text, which works really well with some PDFs and other times it does odd things, like in the video with that particular PDF it shows random small boxes of text sometimes.
There are some advanced features too, like page flipping mode and bookmark browsing mode, as described on the tips and tricks page for KOReader. I can't seem to get page flipping mode to work consistently but bookmark browsing works well to quickly page through bookmarked pages.
KOReader definitely makes the Kobo Aura One a much better PDF reader, and it also works with other Kobo devices as well. Installation is easy and you can still use the stock Kobo software too.
See here for the KoReader installation guide for Kobo eReaders. Here's another guide that says pretty much the same thing but with a little more detail.
Kobo Aura One KOReader PDF Review