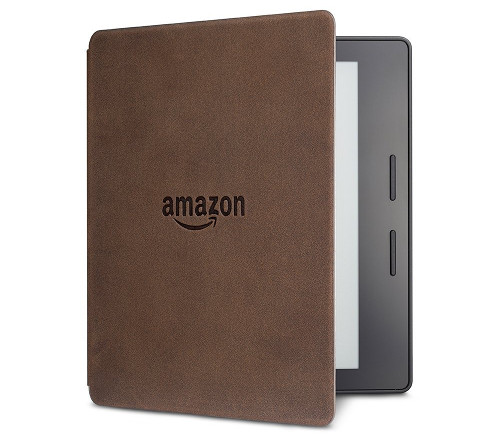 At this point it's pretty clear that the Kindle Oasis is being phased out. Several Amazon websites have stopped selling it altogether over the past few weeks and now ten of the twelve model variations are unavailable from Amazon's main website as well.
So the big question is does this mean the Kindle Oasis is going to be replaced soon or is it going to be discontinued?
Considering the fact that it was just released last year and is newer than both the Kindle Paperwhite and Kindle Voyage, it seems unlikely that Amazon would get rid of the Oasis line entirely at this point.
It seems more likely for Amazon to release an updated 2nd gen version with some new features to separate it from the other models and help justify the higher price.
Lots of ereading fans, myself included, have been hoping for a larger Kindle somewhat similar to the 7.8-inch Kobo Aura One.
Could Amazon release an 8-inch version of the Kindle Oasis?
The main problem with that theory is they wouldn't need to discontinue the 6-inch Oasis if they planned to release a larger version. They would just sell both at the same time.
Lots of people point to the Aura One and say Amazon could release a larger Kindle like it this year, but E Ink has been making a variety of screen sizes for many years, including 8-inch E Ink screens, but Amazon has only used 6-inch screens since 2010.
They released the 9.7-inch Kindle DX in 2009 and then updated it in 2010, but then they never even bothered to keep the software up-to-date after that and just let the DX wither on the vine.
Back when Sony was relevant, they offered 5″, 6″, and 7″ ereaders. Over the years Kobo has offered ereaders in a variety of sizes as well. But during that time Amazon has been happy to only offer 6-inch Kindles. Why would they suddenly change things now, especially as the Kindle remains on top as the number one ereader brand?
I'm not saying the upcoming release of a larger Kindle is impossible, but recent history shows us that Amazon has no interest whatsoever in offering anything but 6-inch Kindles.
I really hope I'm wrong about this but I think the odds of Amazon releasing anything but another 6-inch Kindle is painfully minute. They'll probably just release a 2nd gen Oasis that has the same 6-inch 300ppi screen and add some minor upgrades like the addition of an auto adjusting frontlight and the option to change frontlight color temperature.