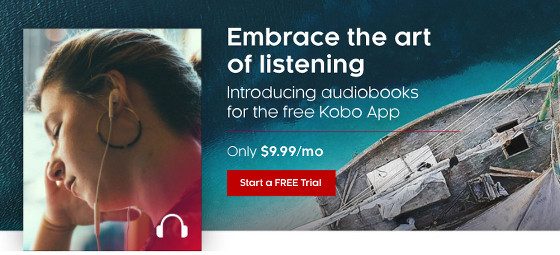 Today Kobo announced that they've started offering audiobooks in addition to ebooks. They are available now on the new audiobooks section of Kobo's website.
Kobo's audiobooks can be purchased individually or through a monthly subscription plan. With the audiobook subscription you get one credit per month that can be exchanged for one audiobook.
The subscription plan costs $9.99 per month in the US, $12.99 in Canada, £6.99 in the UK, $12.99 in Australia, and $13.99 in New Zealand.
There's a 30-day free trial offer so that customers can try it out before subscribing, and it's an easy way to get one audiobook for free.
The audiobooks that you get through the subscription plan you own, even after discontinuing the service.
The only problem is you can only listen to the audiobooks using a Kobo app for Android or iOS; Kobo's audiobooks aren't available to download to a computer, a Kobo ereader, or any other device or product without the Kobo app.
Other audiobook services like Audible offer a lot more ways to listen, with compatibility for a wide range of devices, but Audible costs $14.95 per month and Kobo only costs $9.99.
See Kobo's audiobook help section for more details about how everything works.