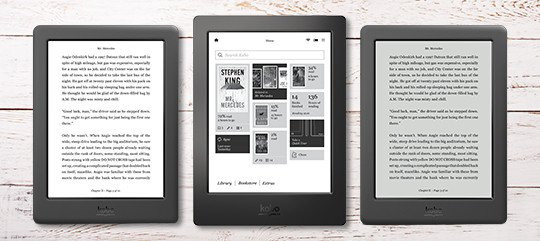 Kobo has just issued a new software update for their line of Kobo ereaders. After a year with no updates at all, they've sure been busy with several new updates this year.
The new firmware version is 4.6.9960. It seems to be available for all models except the Kobo Mini.
The release notes and download links can be found on this thread at MobileRead.
The Kobo Firmware Downloader is another place to find downloads for each model.
Of course you can always just sit back and wait for the update to automatically download and install on its own when syncing.
Sometimes that can take a few weeks, depending on where you got your Kobo ereader.
Or if you no longer trust Kobo updates you can always turn off Wi-Fi to avoid getting it.
Here's the main list of changes in the 4.6 update:
Introducing the Manage Books feature:
· Under My Books, you can now select several books at once, mark them as finished or unread, remove them, or add them to collections.
· To get started, tap the '…' icon in the grey bar near the top of the screen, and choose Manage books.

My Books section:
· Enjoy a cleaner layout of information, including the Filter and Sort menus.
· Access options for a book by long-pressing on its cover or tapping '…' next to it.
· Jump to any section page by tapping Go to page at the bottom of your screen.

Reading:
· Tap the middle of your page to open reading menus, access the Table of Contents, or adjust Reading Settings.
· If you haven't selected a preferred font face, you'll see the Publisher Default.
· Your screen will refresh after every chapter instead of every six pages. You can change this in Reading Settings any time.

Issues we've resolved:
· Archived books could remain synced to your Kobo eReader.
· Date Published was not displayed on books' item details pages.
· The screen flashed twice when saving a highlight in an EPUB.
· Renewed OverDrive books would sometimes show as expired.
· OverDrive search results did not always sort correctly.
via: MobileRead