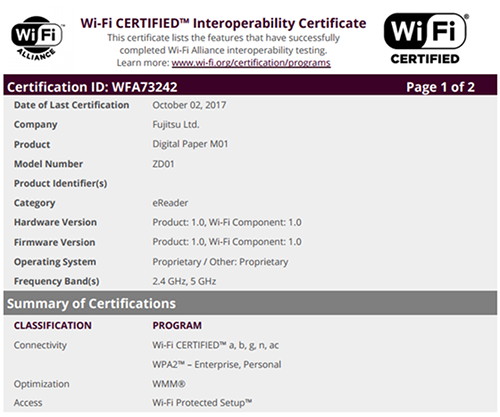 It looks like Fujitsu is planning to release a digital paper ereader of some kind in the near future.
A search on the Wi-Fi alliance website turns up a device called the Digital Paper M01 that was recently certified on October 2nd, 2017.
The model number is ZD01 and the product is listed under the "eReader" category.
The listing reveals little else other than Wi-Fi specs, so it's impossible to tell what the device will be like at this point.
The screen type or size isn't specified but the fact that it's a digital paper product listed in the ereader category makes it seem like a possible alternative to the Sony DPT-RP1.
It might be several months before the new Fujitsu device turns up. The same search shows the Sony DPT-RP1 was certified a full year before it was released.
Either way it's good to see more digital ereaders and notepads showing up lately. Hopefully we'll get a closer look at this potential Fujitsu Digital Paper device soon.
via: Tabletmonkeys