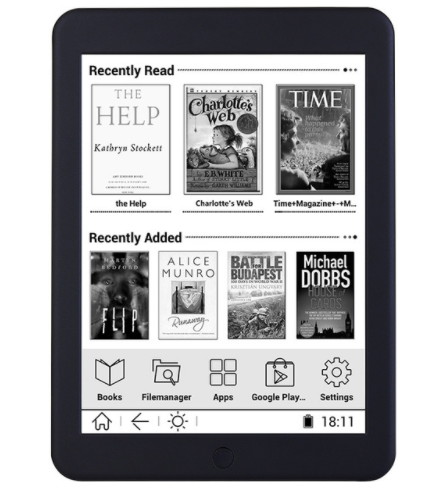 Another version of the new 7.8-inch 300ppi Boyue ereader recently turned up for sale on AliExpress.
The device is called the Boyue Likebook Plus and it's selling for $199 USD.
It's very similar to the Icarus Illumina XL HD that just started shipping.
Boyue makes ereaders for a variety of companies so they often turn up under different names with slightly different configurations.
Regardless, these new models are the first ereaders since the Kobo Aura One to feature 7.8-inch 300ppi E Ink screens. The Aura One has been out for over a year now so it was about time others started following its lead.
Like Boyue's other ereaders, the Likebook Plus runs Android 4.2.2 and is open to install apps. It comes with Google Play onboard. The built-in apps support the following formats: PDF, EPUB, FB2, RTF, MOBI, TXT, HTML/HTM.
According to the spec sheet, it has 16GB of internal storage and 1GB of RAM, with a quad-core 1.5GHz Cortex processor. It has Wi-Fi and Bluetooth, a capacitive touchscreen, frontlight, and a 3.5mm headphone jack. No microSD card slot on this model though.
Below is a YouTube video with a quick look at the new Likebook Plus.
Likebook Plus Video