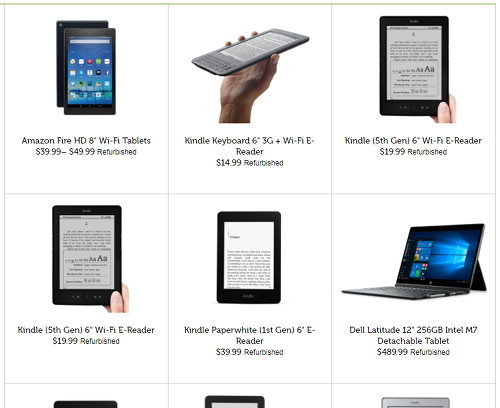 Once again Woot has a bunch of refurbished Kindles and Fire tablets available at deep discounts.
You can get a Kindle Keyboard with free 3G wireless for $15! They also have the 3G Kindle Touch for $25. One main difference with these older models is they support audio and text-to-speech unlike the newer models.
Another good deal for a frontlit model, they have the Kindle Paperwhite 2 available for $49.99.
If you prefer a Kindle with buttons they have the 5th gen Kindle for $19.99.
The best deal for a Fire tablet is a one-day only sale. They have what appears to be the 5th generation Fire HD 8 starting at $39.99. That model used to sell for $150 new so that's not a bad price. Battery life isn't as good as the current model but the screen is brighter and the build quality was a bit nicer back then.
They also have the Fire HD 6 available for $25 again, $35 for 16GB. The 7-inch 323ppi Kindle Fire HDX can be had for $65.
Several other older Kindle and Fire tablet models are on sale as well.
Here's the page with the full list of deals: