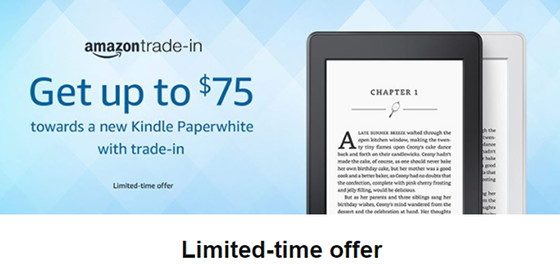 I was browsing the Kindle section of Amazon's website today and noticed a new banner (pictured above) for the Amazon Trade-in program where you can get an extra $50 off the purchase of a WiFi Kindle Paperwhite with Special Offers by trading in your old Kindle.
The banner says get up to $75 off but as far as I can tell their math doesn't make any sense.
By trading in an old Kindle, you get a $50 trade-in bonus toward the purchase of a new Kindle Paperwhite, plus an Amazon gift card for the value of your trade-in.
The terms and conditions clearly state you can combine the bonus with the trade-in gift card and there's nothing about a $75 limit so it could easily be more than that.
Some of the Kindle trade-in values are higher than $25. The 1st gen Paperwhite's value is $35 for example, so is the 2nd gen.
With all other Kindle models, including the new Kindle Oasis, the Kindle trade-in bonus is $20. That's not new; they've been running that promotion all year.
This is the first time I've seen Amazon offer a $50 bonus trade-in deal. According to the fine print, the offer runs through October 31st, 2017. Once the trade-in is accepted, it says the price of the $119 Kindle Paperwhite will automatically be reduced to $69 during checkout. See the promo details page for more info: