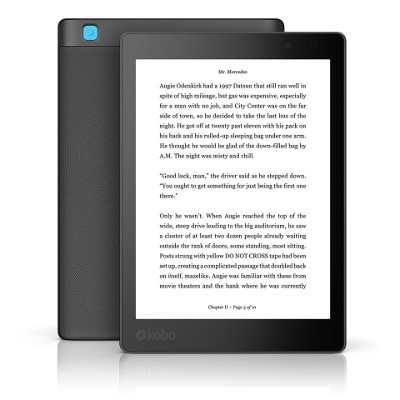 Kobo is the most puzzling company sometimes. It's as if they have no interest in promoting and marketing their own brand.
When's the last time you saw an ad for a Kobo ereader? It's probably been awhile, or maybe you've never seen one at all. I haven't seen one for a long time. Sometimes I see an ad for Kobo's ebookstore but rarely see any for Kobo's ereaders.
They probably advertise in other countries more, but in the US it seems like they've all but surrendered the market to Amazon.
You'd think they would at least advertise the Kobo Aura One alongside articles about the new 7-inch Kindle Oasis, but I've yet to see a single one.
There's also the fact that the Aura One was released over one year ago now and it hasn't gone on sale once yet. I wouldn't be surprised if they don't even put it on sale for Black Friday or Cyber Monday either.
Chapters once had a deal where you could get 20% off when paying with MasterPass, but that applied to most products sold on their website, and the deal likely wasn't authorized by Kobo. Regardless, the Aura One was out-of-stock most of that time anyway.
Usually Kobo just knocks the price of the 6-inch Kobo Aura down to $99, or sometimes bundles an older model with a cover, and that's about it for sales.
Even though Amazon has virtually no competition in the US they're always putting Kindles on sale. Granted they rarely discount the Kindle Oasis, but the other models go on sale regularly, and they offer certified refurbished units for cheaper on a regular basis, including the Oasis.
Kobo on the other hand only ever puts their low-end model on sale and they don't offer discounted refurbished units for cheaper, and they do very little marketing anymore to help draw in new customers. Absorbing the accounts of other failed ebook stores is about all Kobo does to gain new customers these days, it seems. Odd strategy…