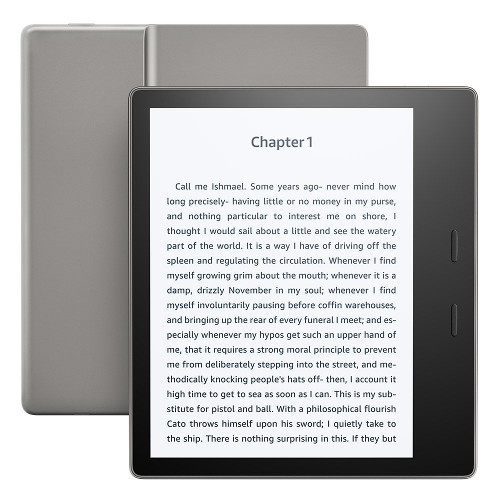 The new 7-inch waterproof Kindle Oasis was released earlier in the week, on Halloween of all days. The high price is a bit scary but other than that it seems like a really nice high-end ereader, and it hasn't tried to kill me yet so it would appear there is no Halloween curse.
I put together a video review showing the new Kindle Oasis in action, and I figured I'd post a quick first impressions review to go along with it before posting a full review in another week or so after getting more acquainted with it.
I also bought one of the fabric covers and show how it works in the video.
I like the cover but I'm skeptical about using it as a stand—it seems like a light breeze would blow it over.
The first thing that struck be about the new Kindle Oasis is the fact that it doesn't seem very big or heavy at all, despite the larger 7-inch screen.
It's actually thinner, lighter, and shorter than the Kindle Paperwhite. It's an inch wider with the offset design and buttons on one side, so it doesn't seem much larger than a 6-inch ereader.
I really like how text lays out on the 7-inch screen. The frontlight is really good too, nice and even, with more of a yellow hue than blue.
Like the original Kindle Oasis, the tapered design is unusual and it makes it look a bit odd with one side being larger than the other, but it does make it more comfortable to hold by centering the majority of the weight into the palm of your hand.
Because of that the Kindle Oasis is more comfortable to hold without the cover on. The aluminum back is cold but it warms up as you hold it. Why are there no velvet-backed ereaders? 😀
Check back next week for the full review. I'm going to post other reviews too for PDFs and some comparisons between the Kindle Paperwhite and Kobo Aura One. I also want to do a test to see how long the battery will last when listening to audiobooks.
Kindle Oasis 2 Video Review