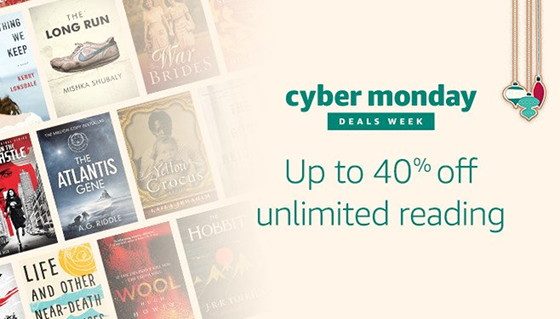 Amazon's ebook subscription service, Kindle Unlimited, is on sale from now through Cyber Monday.
A Kindle Unlimited membership provides access to a library of over 1 million ebooks, several thousand audiobooks, and some current magazines as well.
The Cyber Monday deal takes 33% off the regular price for a 12 month membership and 40% off the cost of a 24 month subscription.
The deal can be gifted as well so you can give a subscription as a gift, and it can be exchanged for an Amazon gift card if the person would rather get something else.
Kindle Unlimited normally costs $9.99 per month, but with the 40% discount it works out to $5.99 per month.
With Kindle Unlimited you have unlimited access to the catalog of content so you can read and listen to as much you want.
But most big publishers don't offer their books in the program so it's a good idea to search available Kindle Unlimited titles before subscribing.
Kindle ereaders remain on sale through Monday as well, which also have the option to add a 3-month subscription to Kindle Unlimited for $9.99 as an add-on deal.