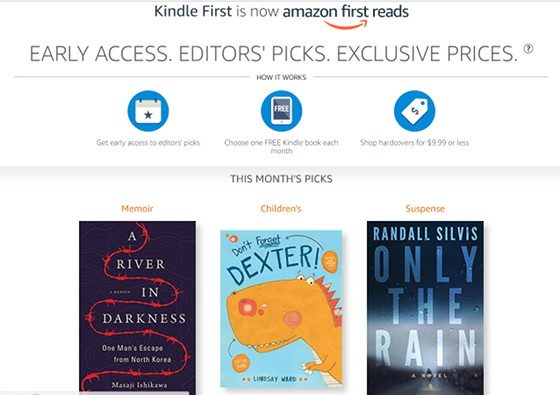 It looks like Amazon's Kindle First program is getting a name change and a facelift.
I was looking at the Kindle First titles available this month and the page looks completely different and there's a note at the top saying Kindle First is now Amazon First Reads.
Whatever they want to call it, Amazon Prime members can choose to get one ebook for free each month.
Likewise, non-Prime members can get one of the Kindle ebooks at a discounted price of $1.99.
Each month they have a different selection of brand new books. This month there are six titles to choose from.
The ebooks don't officially get released until next month, at which time they can be borrowed for free with Kindle Unlimited as well.
Hardcover copies are priced at $9.99 and less. I don't remember the hardcovers being an option before so maybe that's why they dropped the Kindle branding from the name.