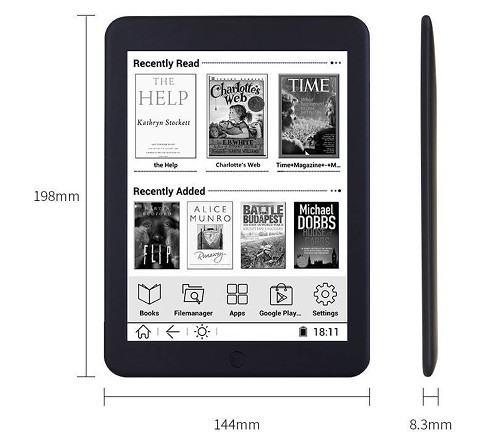 Two new Likebook ebook readers from Boyue recently turned up for pre-order at Banggood, the Likebook Plus and the Likebook Air.
The Likebook Plus first showed up a couple of months ago.
Like the Kobo Aura One, it has a 7.8-inch 300ppi E Ink screen.
The Likebook isn't waterproof like the Kobo but it does have some unique features of its own, including a 1.5GHz quad-core processor, Bluetooth, support for audio, and an Android operating system (4.2.2) with Google Play onboard.
Other features include a capacitive touchscreen, a frontlight, a 3.5mm headphone jack, and it has WiFi of course.
It weighs in at 290 grams and measures 198 x 144 x 8.3mm. That makes it a bit heavier and thicker than the Kobo Aura One, but it has a larger 2800mAh battery.
It also has 16GB of storage with 1GB of RAM, but no memory card slot. The built-in reading app supports ePub, PDF, MOBI, TXT, FB2, RTF, HTML, and DJVU.
The pre-order price of the T80s Likebook Plus is currently $195.75 USD at Banggood with free shipping, and it also comes with a case. It is expected to start shipping next week.