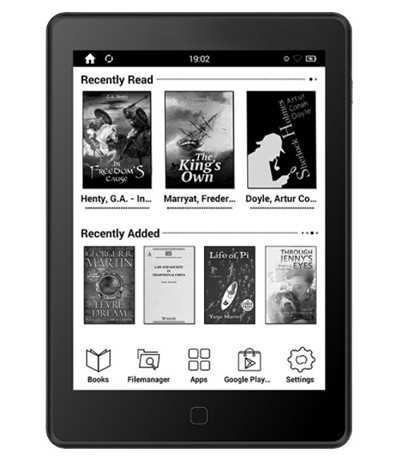 Yesterday I posted about the 7.8-inch Likebook Plus that's available to pre-order from Banggood, and there's also a new 6-inch model from Boyue called the Likebook Air that's available to pre-order as well.
Apparently it's also called the Boyue T65s JDRead Venus, but whatever they want to call it it's basically an updated version of the Boyue T63.
It has a 6-inch 300 ppi E Ink Carta screen with a tempered glass screen and a frontlight.
It has 16GB of storage space and 1GB of RAM, with a i.MX6 Sololite processor. It has Wi-Fi and Bluetooth 4.1. There's no mention of a memory card slot.
The built-in reading app supports ePub, PDF, MOBI, TXT, FB2, RTF, HTML, and a few other formats.
Like Boyue's other ereaders, the Likebook Air runs Android 4.2.2 and is open to install apps. At some point Boyue is going to need to update the software because they've been running Android 4.2.2 for years, ever since they first started.
It doesn't have the quad-core processor like the Likebook Plus, nor a headphone jack.
The pre-order price is currently at $148 USD, and it's expected to start shipping next week.