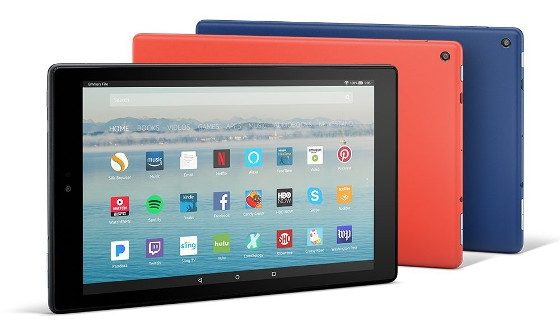 Yesterday's $19 Fire sale (pardon the pun) on the previous generation Fire tablet has already sold out, but today Amazon put some Kindles, Fires and other Amazon devices on sale for the next week.
The prices aren't quite as low as they were for Black Friday and Cyber Monday, except the Fire 7 and HD 8, but the deals are still pretty good.
You can get a Kindle Paperwhite for as low as $99 or an entry-level Kindle for $59.
They also have the 7-inch Fire tablet marked down to $29, the Fire HD 8 is $49, and the HD 10 is $119.
The Kids tablets are on sale as well, and today only one of the main deals of the day takes up to 80% off select Kindle ebooks.
Here's the list of deals:
Kindles
Kindle – $59
Kids Kindle – $79
Kindle Paperwhite – $99
Kindle Content
Up to 80% off Kindle eBooks – 12/10 only
DC Comics: Up to 65% off New York Times best sellers
Digital magazines up to 75% off
Fire Tablets
Fire 7 – $29
Fire HD 8 – $49
Fire HD 10 – $119
Fire 7 Kids Edition – $79
Fire HD 8 Kids Edition – $99