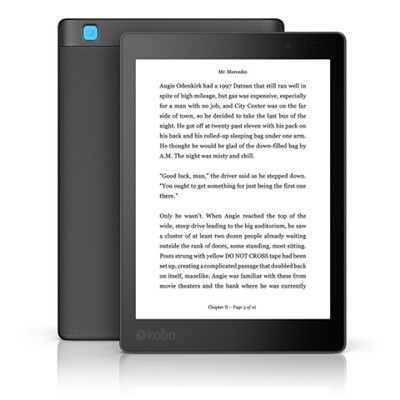 One interesting detail about the Kobo Aura One that's easy to overlook is the fact that Kobo let a group of customers help design it.
In my opinion the Kobo Aura One is one of the best ebook readers to ever get released, and it's funny how it just happens to be the one model that customers had a direct impact on the overall design.
Kobo states this at the top of the description page for the Kobo Aura One:
"We invited a group of our customers to work alongside us from start to finish. They challenged us to push the limits on screen size, front-light technology and easier access to the stories they love."
It's interesting because the Aura One has one of the best designs.
It's very thin and lightweight for its size, and it was the very first ebook reader to feature a 7.8-inch E Ink screen, and it was also the first ereader to offer a frontlight with adjustable color temperature.
The Kobo Aura One also remains the only Kobo device with onboard Overdrive support to download free ebooks from public libraries.
I like the design of the Aura One better than any of Kobo's other models, past and present, so kudos to the group of customers that helped create it. Maybe customers should help design the next new Kindle too…