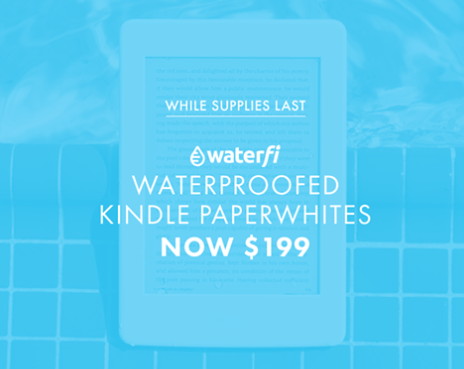 Waterfi has been selling the Kindle Paperwhite with aftermarket waterproofing for several years now.
For a long time that was the only option for a waterproof Kindle, until the new Kindle Oasis came along.
Now Waterfi has a cheaper option available where you can get a refurbished Kindle Paperwhite for $99 that's waterproof.
The 3G model adds an extra $30. Both include ads but you can always unsubscribe from them for $20.
$99 is a pretty good deal considering Amazon is currently selling refurbished Kindle Paperwhites for the same exact price sans the waterproofing. Sometimes they go on sale for $79, but still seeing the waterproof ones available for $99 is pretty surprising considering how much they usually sell for when waterproofed.
New Waterfi Kindles typically sell for $229, but they're currently on sale for $199 from Waterfi's website. Unfortunately they're still priced at $229 on Amazon.
The Waterfi Kindles are IPX8 rated and are waterproof down to 210 feet. They come with a 6 month warranty from Waterfi; the Amazon warranty is no longer valid because of the aftermarket treatment.