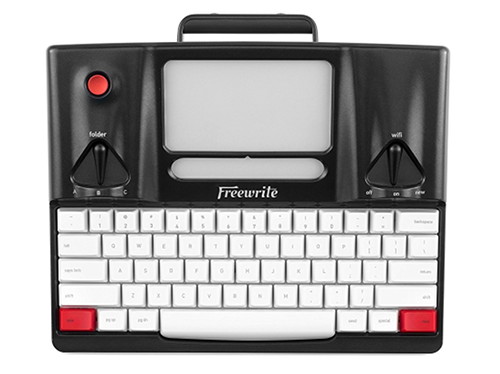 The Freewrite is a very unique type of device that has been on the market for a little while now. They released a 2nd gen model this past fall.
The Freewrite is a specialized writing tool that combines a mechanical keyboard with a frontlit E Ink screen.
Like a typical ebook reader, it's made to be simple and distraction free.
It's meant to be a writing tool only. It's not for browsing the web or answering emails or even editing documents. Just writing.
It has a premium Cherry MX mechanical keyboard from Germany and Wi-Fi for syncing your documents with cloud services.
It has a USB-C port for charging and transferring documents, and it supports plain text files only.
The battery is rated to last for up to 4 weeks when typing for 30 minutes per day. That's the same kind of battery life you'd expect from an ereader.
The Freewrite isn't cheap. It currently sells for just over $500 from Amazon. For that price you could get a large-screen Onyx Boox ereader and use a Bluetooth keyboard, but of course that isn't quite the same as an E Ink typewriter.
Here's a recent YouTube video showing the Freewrite in action.
Freewrite Review