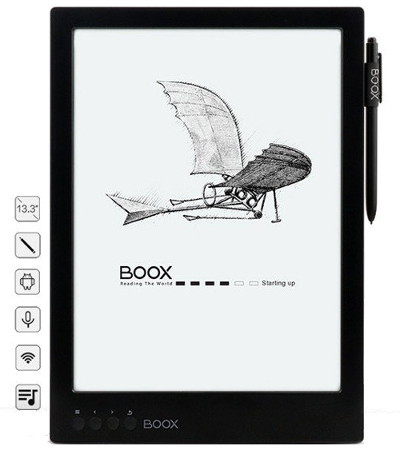 The previous generation Onyx Boox Max Carta is currently selling for $559 at Amazon with free shipping.
That probably sounds pretty expensive to most people but it's actually the lowest price a 13.3-inch E Ink ereader has sold for new.
The older Sony DPT-S1 once went on sale for $599 when they started phasing it out, but it had an earlier lower resolution version of E Ink's 13.3-inch panel.
Onyx's newer Max2 sells for $799.
$240 is a pretty big difference considering the Max Carta has the same exact screen as the Max2, and despite the 2 in the name, the Max2 is actually the 3rd generation model, the Max is the 2nd. The 1st gen model had an older screen, but was otherwise mostly the same as the Max Carta.
The Max2 adds a capacitive touchscreen, a faster processor, a newer version of Android (6.0), it has an HDMI port to use the device as a secondary monitor, and the pen touch has been upgraded to Wacom, but when it comes to the reading software the two devices are 95% the same.
If you just want a 13.3-inch E Ink screen to read PDFs, the 1st gen Onyx Boox Max is probably going to be the least expensive option for awhile until they sell out the remaining stock. The Max2 has some nice upgrades but $800 is a pretty big step up if you just want to use the device as an ereader and digital notepad.