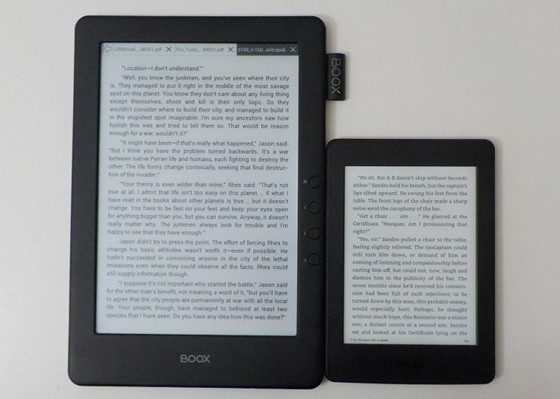 A long time ago there was once a Kindle with a large 9.7-inch E Ink screen called the Kindle DX. It lasted for two model generations before it was slowly phased out.
It wasn't an unpopular device. Most people seemed to like it quite a bit for what it was at the time; there weren't a lot of people complaining about it, other than the fact the software wasn't updated.
In fact the reviews at Amazon confirm it wasn't a failure. It had an average rating of 4.0 stars.
That's better than the current entry-level Kindle with 3.9 stars and it's the exact same rating as the new Kindle Oasis.
So why was the 9.7-inch Kindle DX retired and never seen from again?
Lots of people still ask about it. The larger screen was great for those with vision problems or just anyone who likes to read with larger font sizes and to have a bigger screen for content like PDFs and comics.
In today's market there's only one company still selling ereaders with 9.7-inch E Ink screens in the US: Onyx.
Pocketbook used to offer 9.7-inch models, but overall it has been an uncommon size. Sony has never offered a 9.7-inch ereader and there's never been a Kobo or Nook in that size either.
But as Apple has proven with the iPad, that's a popular size, especially with the 4:3 ratio screen that's well-suited for PDFs and other reading content.
It's kind of surprising there aren't more 9.7-inch ereaders available.
It's not like they are overly expensive. Right now the Onyx Boox N96ML with a frontlight is priced at $339 on Amazon, and the dual-touch model is $329.
That's not much more than the 7-inch Kindle Oasis without ads, especially the 32GB model that sells for $299, and the cellular model is $349.
When it comes to reading PDFs, the 9.7-inch screens are a huge improvement over 6 and 7-inch screens, despite the fact the larger screens have lower resolution.
The newer 13.3-inch and 10.3-inch Onyx models are getting all the interest, but for a fraction of the price the 9.7-inch Carta screen on the Onyx Boox N96 is quite nice. I still like using the N96ML for PDFs, and the fact that it has a frontlight gives it an edge over the larger Onyx Boox Max and Boox Note. Too bad there aren't more options for large ereaders with frontlights.