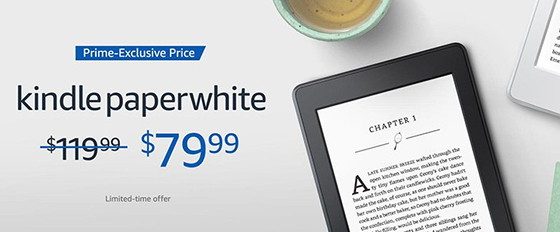 If you're an Amazon Prime member you can get big discounts on select Kindle ereaders and Fire tablets for the next week.
They have the Kindle Paperwhite marked down to just $79, its lowest sale price ever (for Black Friday and Cyber Monday it was $89). Additionally, the entry-level Kindle is on sale for $49 and the kids Kindle bundle is $69.
The full lineup of Fire tablets are being discounted as well.
The Fire 7 is $34.99, the Fire HD 8 is $54.99, and the kids' versions are $74.99 and $94.99 respectively.
The Fire HD 10 is $109, down from the usual $149. I have one and use it everyday; it's a great tablet for that price.
If you're not a Prime member you can still get in on the deals by subscribing to one month of Prime for $12.99. Even considering that, the Paperwhite is still cheaper than it is with the typical $99 sale for non-Prime members.
Some folks are probably thinking this could mean a new Kindle Paperwhite is coming soon, but that's not happening according to E Ink's chairman, who recently told investors that sales of E Ink screens for ereaders is expected to remain weak for the next several months. Translation: there will be no new ereaders released anytime soon, at least not from major players like Amazon.
Fire TV devices and some bundles are on sale too. The full list of deals is on the linked page below.