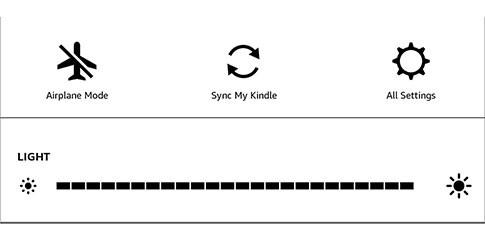 This question comes up surprisingly often from new Kindle users, and if you're new to Kindles and are unfamiliar with the user interface, I can see why.
You'd think they would make adjusting the frontlight blatantly obvious, but that's not the case. If you go to the settings menu or look at the main menu bar there's no light option to be seen.
The only way to adjust the frontlight on Kindles is to tap the gear icon from the menu bar at the top of the screen, then use the slider to adjust the brightness.
If you hold the icons at the front or end of the slider you can quickly adjust to minimum or maximum brightness.
The Kindle Paperwhite also has a Max button for maximum brightness, but that's missing on other models for some reason.
Adjusting the frontlight is as easy as pie once you know where to look, but I can see how it can be easy to miss. On the Kindle Paperwhite you can go through all the main settings menus and not see the light mentioned one single place.
You'd think the option to adjust the light setting would be located somewhere in the settings menu, but oddly that isn't the case.
A couple of models, including the Kindle Voyage and Kindle Oasis 2, do have an additional light setting option in the Reading Options menu called Nightlight. Enabling this setting will gradually decrease the frontlight brightness over time as your eyes adjust to the dark.
The Kindle Voyage and 2nd gen Kindle Oasis also have the option to use auto brightness, which will automatically adjust the screen brightness based on ambient lighting conditions. There's a checkbox next to the brightness slider to turn it on and off.