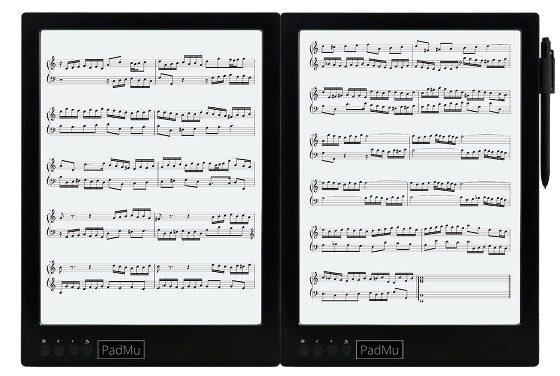 The PadMu is a specialized sheet music reader designed for musicians. It comes in a single version and a double version so you can choose to have one or two 13.3-inch E Ink screens.
It works in conjunction with the PadMu Controller app for Android, which can be used to control the device remotely and open and close files.
At its core, the PadMu is a rebranded Onyx Boox Max so it shares the same exact hardware.
But the problem is it's the older Max Carta version without the upgraded hardware and newer Android software.
Aside from the onboard PadMu app, I don't see what the difference is, and the regular Onyx Boox Max Carta is much cheaper now with the Max2 out, currently $549 at Amazon and €549 at Amazon IT.
But the PadMu adds the possibility to use two screens, which isn't normally an option with the Onyx Boox Max.
The PadMu is shipping now and is currently selling for €719 for the single version and €1428 for the double version from the PadMu website.
PadMu Sheet Music Reader