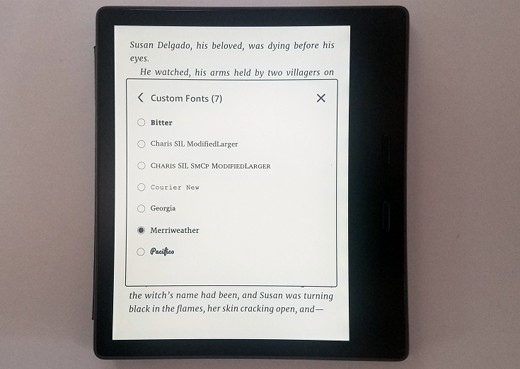 Thanks to the latest Kindle software update, it's now possible to easily load additional font types onto Kindle ebook readers to further customize the reading experience.
The custom fonts feature is available on all current Kindles going back five years to the Kindle Paperwhite 2, so that includes 6th through 9th generation models.
In order to use custom fonts your Kindle needs to be running software version 5.9.6 (or newer when future versions get released).
To check your Kindle's firmware version go to Settings > Device Options > Device Info.
If it's older than 5.9.6 you can download the latest version from Amazon's Kindle Software Updates page.
The 5.9.6 update adds a "fonts" folder to the main Kindle drive that you can see when you plug it into your computer with a USB cable. Inside the fonts folder there's a Readme file with directions on how to add fonts to your Kindle.
Basically you just have to copy OTF or TTF font files to the fonts folder, and it helps to use all the different versions of the font for things to work properly with italics, bold, etc.
You can also use Calibre to embed fonts directly in Kindle books without adding font files to your Kindle, but that requires some additional steps. This new way is much more convenient.
Font Sources
First off, if you want to sideload fonts on your Kindle you're going to need some font files to use.
There are a number of places online to buy fonts and gets fonts for free in TTF (TrueType) and OTF (OpenType) formats.
Google fonts is one option. There's a download at GitHub with a master file for all the Google fonts.
Another option, if you have a Windows computer all you have to do is type "fonts" in the search bar to find a folder full of a bunch of different font types. I'm not sure how it works on Mac but there's probably a similar option.
How to Add Fonts to Kindles
1. Plug your Kindle into your computer with a USB cable.
2. Copy .otf or .ttf font files to the Kindle's font folder. It's best to add all the font versions for each font type.
Example:
Georgia-Regular.ttf
Georgia-Italic.ttf
Georgia-Bold.ttf
Georgia-BoldItalic.ttf
3. After adding the font files, safely eject your Kindle from your computer and enjoy its newfound font freedom!
If everything worked properly you'll have a new custom option setting to choose from on the Kindle's font selection menu (Aa). The Kindle will detect if there's an issue with a particular font type, in which case it will not work and it won't display it as an option.
Kindle Custom Fonts Video