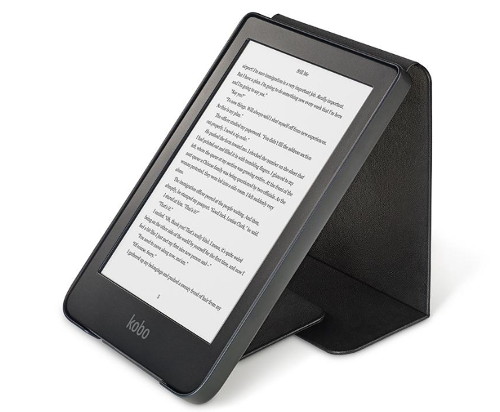 Kobo unveiled a new style of sleepcover for the Kobo Clara HD so I wanted to try it out and post a review of it.
The cover has a flip-up design with a lower magnetic flap to keep the cover closed, and the flap also flips around to the back to prop up the case as a stand.
The cover is fairly light at 100 grams so it doesn't add a lot of extra weight to the Clara HD.
It has the sleepcover feature that automatically turns the screen on and off when opening and closing the front.
The cover is made of PU leather and it has a plastic shell to hold the reader in place.
I like how the flip style case works and how it keeps it from being too bulky. It's surprising that this kind of cover design isn't more common.
It's a lot more sturdy as a stand than other cover/stand combinations that I've tried in the past, and it sits at a good angle to read comfortably.
My only gripe with the cover is that it's rather difficult to dislodge the Clara HD from the cover. You have to pull on it fairly hard and twist it just right to get it out, and it's pretty much impossible not to mash the power button while doing so.
The Kobo Clara HD sleepcover sells for $29.99 USD from Kobo's website. It comes in black, blue, and red.
Kobo Clara HD SleepCover Review