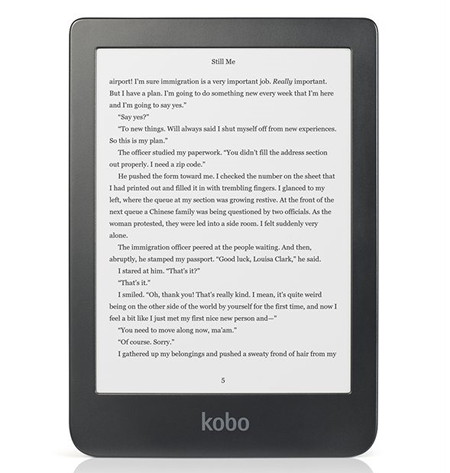 Review Date: June 2018 – Review unit purchased from Chapters.Indigo
Overview
The Kobo Clara HD was released the first week of June 2018.
It's Kobo's fifth frontlit 6-inch model, and it's the first 6-inch Kobo to have a Comfortlight Pro to adjust the frontlight color, which was previously only available on Kobo's larger models.
The Clara HD has a 300 ppi E Ink screen like the short-lived Kobo Glo HD, and it's similar in size to the Kobo Aura, although it's 14 grams lighter and 3mm narrower.
The retail price of the Kobo Clara HD is $129 in the US and $139 in Canada from Kobo's website.
Kobo inked a deal with Walmart earlier in the year to start selling Kobo ereaders and ebooks in stores and online but that has yet to happen.
Kobo Clara HD Review
Pros
Adjustable frontlight color, from a cool blue to a warm orange.
The high-resolution E Ink screen looks great.
Small form factor and lightweight design, and the flip style sleepcover stand is a nice touch (sold separately).
Cons
Frontlight prone to bleeding issue and brighter spots.
Plastic material is rather slick without a cover.
Same basic design as previous Kobos; no page buttons, no sensors, nothing new.
Verdict
The Kobo Clara HD is basically a cross between the Kobo Glo HD and the 2nd gen Kobo H2O. Other than the addition of the Comfortlight Pro, it doesn't bring anything new to the table, but the trimmed down design makes it a lot smaller and lighter than similar ebook readers like the Kindle Paperwhite and Nook Glowlight 3, and the high-resolution E Ink screen is a step-up from the past two 6-inch Kobos.
The main drawback with the Clara HD is the potential for frontlight flaws, but the frontlight looks quite good at lower brightness settings. If you're the kind of person that is sensitive to frontlight uniformity or like having the frontlights turned up to higher levels you might want to avoid the Clara HD. Otherwise it's a very nice little ebook reader.
Kobo Clara HD Video Review
Kobo Clara HD vs Kindle Paperwhite
Hardware and Design
You can tell one of Kobo's goals when designing the Clara HD was to make it as small and light as possible.
It's narrower and lighter than Kobo's earlier 6-inch models. It looks a lot like the original the Kobo Glo, just a bit smaller and with more rounded corners. It weighs 166 grams on its own, and 267 grams with the official sleepcover. The unique flip-up design of the cover also helps keep the sides trim and the bulk to a minimum, which is nice.
The narrow side bezels don't provide much room to hold onto, however. I find that I like holding the device from the bottom edge better, but that does make swiping the touchscreen a bit awkward to turn pages. I just wish it had one page forward button centered directly below the screen, like the home button on the original Kobo Touch, then it would be more comfortable to use when holding it that way.
The only button on the Clara HD is the power button, and they moved it to the bottom edge (all other current Kobos have a blue power button on the back). I thought the power button would be easy to accidentally trigger in that location but it barely sticks out past the frame and requires a good amount of pressure so accidental presses haven't been an issue.
Frontlight
As mentioned in a previous article, the frontlight on the Clara HD is prone to some light bleed on the lower edge and sides of the screen. There's a DIY light bleed fix (starts at 11:30) that reportedly works well, but you have to take the device completely apart to do it.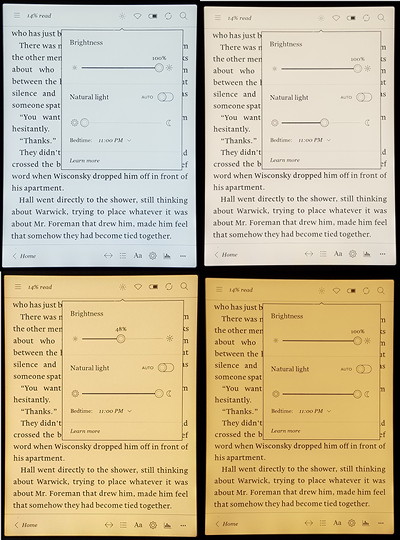 I do like how the Comfortlight Pro lets you control the color of the frontlight, and you can even set it to automatically adjust the color based on the time of day. Even if you don't care about blue light it's nice to be able to control the tone of the light. Combined with the high resolution 300 ppi Carta screen, reading on the Clara HD is a pleasure.
Touchscreen and Storage
The Clara HD has a capacitive touchscreen that works well. I haven't had any problems with touchscreen responsiveness like some earlier Kobos.
It has 8GB of internal storage space, but it lacks a memory card slot like the Glo HD had. However, it is possible to replace the internal memory card with a higher capacity card if you really want more storage space.
Software
All of Kobo's ereaders run the same software and the Kobo Clara HD doesn't add anything new on that front.
One thing worth noting is the Clara HD doesn't have OverDrive integration built-in like the Kobo Aura One, so it can't download library books directly—you have to use a computer to sideload library ebooks using ADE.
It's also worth mentioning there are a number of custom patches and mods that can be installed on Kobo ereaders from the Kobo section at MobileRead. There are alternate reading apps like KOReader that offers much better PDF support than Kobo's software. Another popular option is to use the full screen mode patch to remove the header and footer from Kobo's ebooks to get more words on the screen.
Kobo's software offers different sections for books, authors, collections, and articles from Pocket, a service that will send web articles to your Kobo. The library list offers cover view and list view. Sorting options include by recent, date added, title, author, series, file size, and file type. Additionally, you can break it down further with the option to sort by all, reading, unread, finished, purchased, previews, OverDrive, imported, and downloaded.
Kobo Reading Features Explained
Notes and Highlights: Hold down on a word and drag to bring up the option to highlight and add text notes using the onscreen keyboard. There's an annotations list to view them. There's no option for export, but they can be shared on Facebook.
Bookmarks: When reading an ebook, tapping the upper right hand corner adds and removes bookmarks. They can be viewed, shared, and edited from the annotations list.
Fast Page Scan: If you press and hold in the lower corner of the screen you can quickly flip through pages. Slide left or right to go forward and back. Only works with ebooks in Kobo format (.kepub).
Font Choices: The Kobo Clara HD offers 10 font choices and over 40 font sizes. Font weight can be adjusted to embolden text. You can also sideload your own TTF and OFT fonts by placing them in a folder titled "fonts" on the Kobo drive, but you can't adjust weight with sideloaded fonts without a patch. Pre-installed font choices include: Amasis, Avenir Next, Caecilia, Georgia, Gill Sans, Kobo Nickel, Malabar, Kobo Tsukushi Mincho, Kobo UD Kakugo, and OpenDyslexic.
Text Adjustment: All Kobo ereaders offer line spacing and margin adjustment for ebooks. There's also the option to choose full justification, left justification, and you can turn justification off. These don't always work with sideloaded books, however.
Dictionary: Holding down on a word opens a dictionary window. From there you can choose different dictionaries and translation dictionaries. 22 different dictionaries are available in the settings menu. The dictionary text is quite small but you can increase it by switching to Large Print Mode from Settings > Beta Features.
Search: You can run searches within ebooks for specific terms and easily navigate around the book using search, which is limited to 100 results. You can also highlight a word or phrase while reading and then choose to search Wikipedia or Google and a window will popup to open the browser.
Navigation: There's a table of contents for navigating through an ebook, along with a page dial to jump by pages and chapters.
Reading Stats: Kobo ereaders offer reading stats that provide information about how long it will take to finish an ebook and chapter based on your reading speed. It shows book progress, chapter progress, average minutes per reading session, average pages per minute, total hours reading, and the percentage of total library read. There's an indicator while reading that shows upcoming chapter length too. Works only with Kobo ePubs.
Reading Awards: There's a section for reading awards. You can earn various badges for accomplishing certain tasks and goals. Works only with Kobo ePubs.
OverDrive Support:All Kobo ereaders support OverDrive for getting free ebooks from public libraries, but only the Kobo Aura One has onboard support to download the books directly from the Kobo store; all other Kobo's require sideloading the ebooks using a computer, including the Clara HD.
Pocket Integration: Kobo ereaders work with Pocket, a service that can send web articles that you've tagged online to your Kobo device. Plus the articles get reformatted to display better on mobile devices.
Sharing: You can share highlighted sections and notes on Facebook.
Landscape Mode: Kobo ereaders offer landscape mode for PDFs and comics but not for ebooks.
Language Support: The following languages are available in the settings menu: English, French, Canadian French, Japanese, German, Dutch, Italian, Spanish, Portuguese, Brazilian Portuguese, and Turkish.
Partial Page Refresh: In the settings menu you can set E Ink page refresh from 1 to 10 pages or at every chapter.
Page Turns: In the settings menu there are different tap zones that you can set to page forward, back, and open settings.
Beta Features: From the settings menu there's a beta features section, but it only includes a basic web browser and large print mode. There used to be a sketch pad and some games but Kobo removed them.
Kobo Clara HD Specs
6-inch E Ink Carta display.
1448 x 1072 resolution, 300 ppi.
Frontlight with ComfortLight Pro to reduce blue light.
Capacitive touchscreen with 2-point touch.
8GB internal memory.
Wi-Fi 802.11 b/g/n.
Supported formats: Adobe DRM, EPUB, EPUB3, PDF, MOBI, JPEG, GIF, PNG, BMP, TIFF, TXT, HTML, RTF, CBZ, CBR.
Battery Life: few weeks.
Languages supported: English, French, German, Spanish, Dutch, Italian, Brazilian, Portuguese, Japanese, Turkish.
Weight: 166 grams.
Dimensions: 159.6 x 110 x 8.35 mm.
Price: $129 USD from Kobo.com.