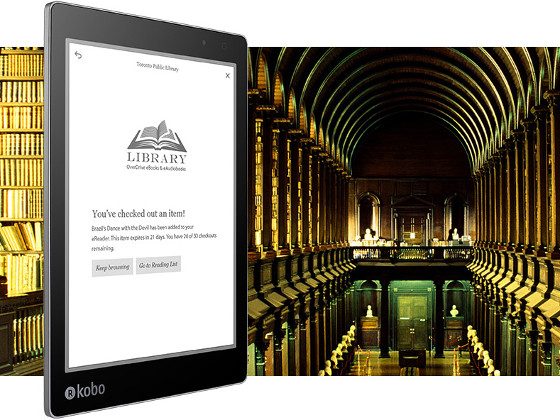 This should make some folks happy. Kobo is rolling out a new software update, version 4.10, that adds Overdrive integration to more Kobo devices.
This allows owners of Kobo ereaders to download free ebooks from public libraries directly to the device itself.
Previously users were required to use Adobe Digital Editions to transfer library ebooks using a computer and USB cable.
But now things are going to get a whole lot easier for library users.
Once you add your library account to your device you can search for, place holds, and download library books from inside the built-in Kobo store from the Overdrive section.
The titles available depends on your library's ebook selection. You can only use one library at a time, but it is possible to borrow from multiple libraries when signing in with an Overdrive account instead of a library account.
Up until now the Kobo Aura One was the only device that supported downloading library ebooks directly.
Now direct library downloads are also available on the Kobo Clara HD, the Kobo H2O Edition 2, and the Kobo Aura Edition 2. So that includes all the current models but not the older ones.
Unfortunately the Overdrive feature isn't available in all markets, but it is available in Canada, the United States, the United Kingdom, Australia and New Zealand.
Overdrive support will get added with the latest 4.10 software update. Your Kobo will automatically download and install the update eventually, or you can download it now from the Kobo Firmware Downloads page and install it manually.