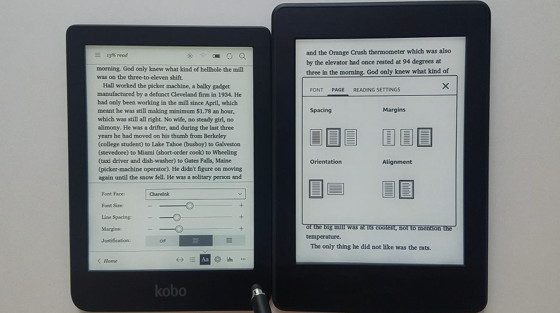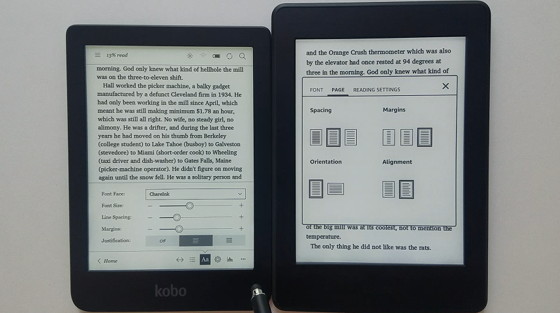 The Kobo Clara HD is the latest 6-inch ebook reader to hit the market, so let's compare it to the most popular 6-inch ebook reader, the Kindle Paperwhite.
The Kindle Paperwhite 3 was released three years ago now, and it has been sporting the exact same design since 2012, so it feels kind of odd to still be reviewing a product that's been around for so long.
The Kobo Clara HD has a smaller and lighter design than the Paperwhite, and it has a frontlight with adjustable color temperature.
While not adjustable, the frontlight is a bit more uniform on the Paperwhite; the Kobo's design is susceptible to a bit of frontlight bleed with the 13 lights to the Paperwhite's 4.
They both have the same 6-inch 300 ppi E Ink Carta screen, both have capacitive touchscreens, and both share many of the same software features.
The Kindle has some extra features like X-Ray, instant translations, Word Wise, Goodread's integration, landscape mode for ebooks, VoiceView to read books and menus aloud, and there's a vocabulary builder. It's also possible to wirelessly send library books to the Kindle Paperwhite.
The Kobo has some settings the Kindle lacks, like offering different tap zones and being able to set page refresh frequency. Kobo also has a more advanced estimated reading time indicator, and they've got a feature that keeps track of your reading activity.
The Kobo also has twice as much storage space as the Paperwhite with 8GB.
Overall speed is about the same between the two. Page turns are the same speed and sometimes the Kobo is a bit faster to open a menu or the dictionary, and sometimes the Kindle is faster. There's no real advantage either way.
The Kindle Paperwhite starts at $119 but the one without ads is $139. The Kobo Clara HD sells for $129 so it's a little cheaper than the Paperwhite, but the latter frequently goes on sale for $89-$99.
Kindle vs Kobo Clara Comparison